Today is April 1st! I can't believe March is over already, but I can't say I'm sad to see it go. It was a crazy month. Anyway, with April 1st comes April Fool's Day. I'm not a big fan of pranks or April Fool's Day. Maybe because I'm really quite gullible and I don't always get sarcasm. Or maybe because my sister used to get me really good each year and I was always the loser. I dunno, but I don't like it very much. However, I saw this article posted on facebook yesterday and it had me laughing out loud, literally! If today had of been a work day I totally would have done at least one of these today. Anyway, here's
10 April Fool's Pranks for Nerds
. I actually tried out the different languages in google. I think my favorite was "Pirate". If you've never played around with the languages for searching in google, do so. It's absolutely amazing and amusing!
This morning I was freezing so I turned on the space heater to warm up the living room. My dear cat Stank was enjoying it himself. I think he likes the warmth more than I do!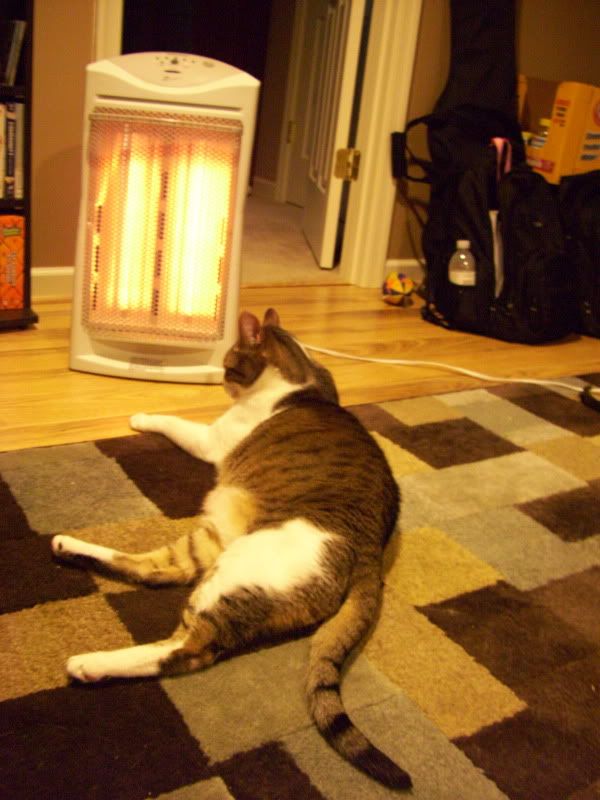 Once again this week I'm entering the Live Every Moment photo challenge. This week's theme is "Different View/Perspective". I took this picture in Miami when I was there in '06. I love palm trees so much and I love the angle that I took the picture from.
To view the contest and other entries please click the button below. There are some awesome photos submitted with different perspectives!
I hope every has a wonderful weekend! Collin's gone on a Men's Retreat but I've got some good stuff planned so I won't be missing him
too
much. ; )
Cindy