You guys, it is so hard not living in my own space. And it's especially hard because the space we're living in is already furnished and decorated. I want to decorate for fall so badly yet I have no place to put any decorations. When we moved into my in-law's basement I managed to find a few places for some of my stuff but not much at all. Plus, all of my fall decor items are in our storage unit. I bought some cute little pumpkin, leaves, and acorns that will go perfectly in a vase or bowl, but now I just have to find a vase or bowl to put them in.
Anyway, even though I can't really decorate, I've found some awesome fall decor ideas on Pinterest. I'm sharing a few of my favorites with you today! All of the photos were found on Pinterest and I've included the original sources as best I can.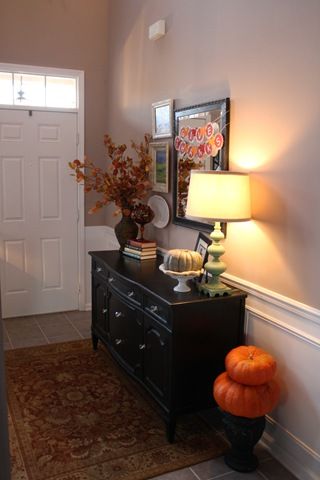 What fun fall decor have you found? Have you incorporated any of it into your home yet? Do you plan to? You can bet that next year when I'm in my own place I'll be incorporating some of these awesome ideas!
Cindy