Last week I found this delicious looking recipe on Pinterest called White Cheddar Chicken Pasta. I clicked on the link and it led me to
this blog
where I decided I had all the ingredients to make the recipe that night. And let me tell you, it was delicious!! I love white cheddar cheese, there's something about it that is so tasty and pungent (in a good way) and I thought it was the perfect flavor for this meal.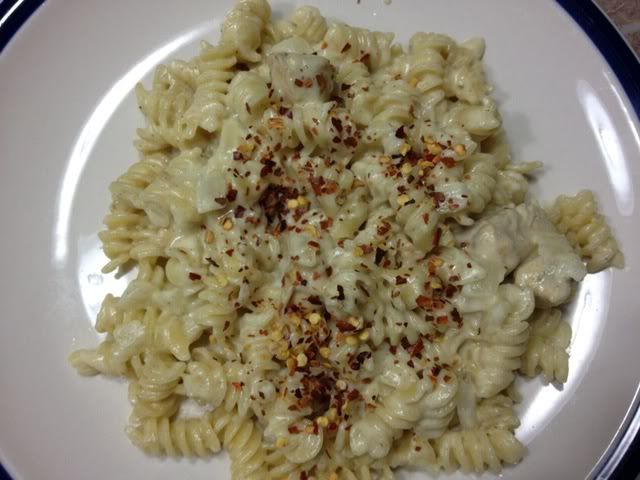 For the chicken:
1 pound boneless, skinless chicken breasts, trimmed and cut into 1 inch pieces
1 tsp dry mustard
1 T fresh thyme
1/2 tsp salt
1/2 tsp pepper
1 T olive oil
Heat olive oil in a large skillet over medium heat. Mix together mustard, thyme, salt and pepper and sprinkle over chicken pieces. When pan is hot, add chicken and brown about 3 minutes per side until cooked through. Remove to a plate and cover with foil.
For the pasta:
1 pound rotini or other short cut pasta
2 T butter
2 T flour
2 cloves garlic, minced
1 small onion, finely diced
1/4 cup dry white wine
1 T Dijon mustard
8 oz sharp white cheddar cheese, grated
2 cups milk (I only had 1 3/4 cup of 1% milk so I added a little bit of half and half to make it thicker)
1 T fresh thyme
1 T fresh oregano
Crushed red pepper flakes to taste
Parmesan cheese to taste
Heat water to boil in a large stock pot for pasta, add salt and pasta and cook to al dente and drain according to directions. Meanwhile, melt butter in a large skillet over medium heat. Add flour and whisk to combine. Add wine, garlic, onions, and mustard. Cook about 5 minutes, until onions are translucent. Reduce heat to low and slowly add milk, stirring to combine. Cook about 5-7 minutes more until mixture begins to thicken. Add cheese and stir to melt. Add chicken and pasta and toss to incorporate sauce. Add thyme and oregano and serve topped with crushed red pepper flakes and Parmesan cheese.
I actually did not add the thyme or oregano at the end (though I like them). The flavor was already very strong from putting the thyme in with the chicken and I didn't think it needed anymore. But I also don't like it when the spices are overwhelming the rest of the flavors. Also, another note, I added a bit of crushed red pepper when we had this for dinner and it was good (gave it a little spice) but when I had it for lunch the next day I didn't add any and I thought it was even better wihtout it.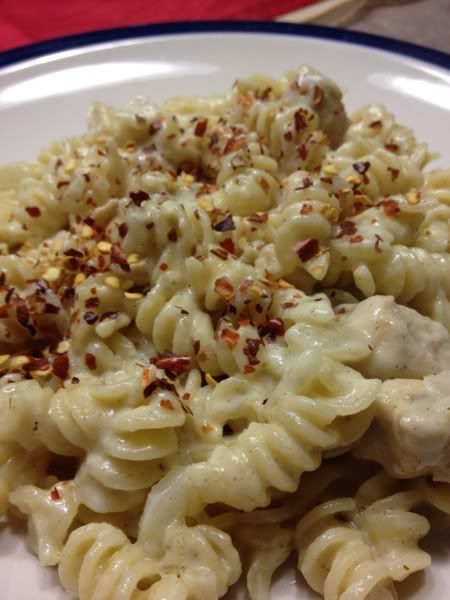 So there you have a wonderful and delicious way to have pasta. I love pasta for dinner but I like to mix it up instead of having the same ol' spaghetti all the time. This is definitely a good way to mix it up!
Cindy