I should just turn Thursdays on my blog into my past week via Instagram because that's pretty much what it's become! ha! But what can I say, I LOVE my phone and it's awesome camera. And Instagram makes it so easy to document my pictures/thoughts. Anyway, here's what's been going on with me!

Last Thursday it was beautiful. The weather called for scattered showers, which we did get and it was pretty warm! But it was sunny and didn't look at all like rain when it started sprinkling on my drive home from work!


We've going to have an egg hunt with our youth group April 1st. I bought lots of brightly colored eggs for the event! So fun! Egg hunts were always my favorite part of Easter with the family. And I think I liked it better when I got old enough to hide the eggs for the younger cousins.


I love Bradford Pear trees. They look so very beautiful. But have you ever smelled one in bloom? They smell like rotting fish. Or something nasty. It's amazing how something so beautiful can smell SO bad!


I went on a little photo walk last Friday afternoon with my (semi) new camera! I won this Nikon 1 at my company's work holiday party in January (yes, we have our holiday party in January.. weird, I know) and I love it! I haven't used it much at all but I definitely took the opportunity to go out and get some beautiful spring blooms pictures.


I took over 100 pictures on Friday and then I took some more yesterday and I shared a few on Monday but I'll probably be sharing more this coming Monday!


Saturday I got to spend some time with my cousin and her two sons. We were making decorations for this sweet boy's first birthday which is coming up next week!


My cousin Morgan and sweet Jude with a mowhawk thanks to his super long hair and gel. haha!


Our service on Sunday started with back to back Paul Baloche songs. So awesome! It was a great morning of worship and praise to God!


I swear this cat would rather lay on me than on anything else. Almost every time I'm sitting down he climbs into my lap. I think maybe this particular day was because my shirt was shiny and he wanted to eat the sequins. Sometimes fighting him off can be really funny though.


And this is a BIG reason why I love spring. And why I love my iPhone. I took this photo this afternoon and didn't put any filters on it. Man that camera takes good pictures! Love it!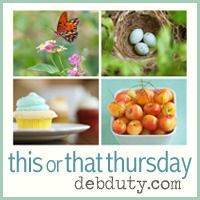 So that's what's been going on. Besides keeping busy at work, Collin and I did get to enjoy a fun evening Friday playing games and watching Seinfeld with our friends Jeff and Jeannie. And then again on Sunday we had another fun evening with my sister and brother-in-law after youth group. We had a delicious dinner left over from St. Paddy's Day and then played Imaginiff and laughed our butts off! It was really nice to spend time with them. =)
What have you been up to friends? Anything fun and exciting? Are you enjoying spring and all the pretty blooms? Take some pictures! I wanna see what it looks like where you all live!
Cindy