I did a lot of updates to my blog yesterday! I changed the layout and look of it a bit. I changed the font a few weeks ago and I was just itching to change the rest of it so I did finally! I really like the way it looks. What do you guys think?
I also added a button! I figured out how to make one, or rather how to get it onto my site, and so I went to work creating it. If you'd like to add it to your blog you can find it on the sidebar or actually here's the link.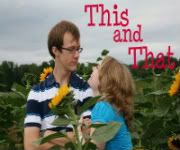 I was also pretty pleased with how that turned out.
The only thing I'm frustrated about is the navigational tabs at the top of the page. I have a link to my homepage, a link to my About Us page, and then a new link to all my Friday Favorites posts, however, I want to have navigational tabs and not pages and I can't figure out how to do it. I want to be able to put a tab to my Friday Favorites label search page instead of how I have the page currently with a link to each of my posts individually. Am I making any sense? Does anyone know how to do it? I think the main thing I'm frustrated with it I've tried doing it and I've gotten it to work but the formatting isn't right with the way the tabs look at the top of my blog. And I love the way they are formatted right now. Can anyone help me with this or do you know of anyone who could?
On another note, I am so tired. I want to just curl up in a ball and take a nap. However, I hate naps. I hate them mainly because I hate how I feel when I wake up from them. I feel so groggy and out of it and almost sick-like. And it takes me longer to get out of the funk than I spent actually napping. But another reason I hate them is I feel like I'm missing out on so much when I nap. I feel like I have so much I should be doing instead of napping and in the end the nap isn't very restful. I don't think I'll take a nap today. I'll just suck it up and manage through the evening. I sure can't wait to sleep in on Saturday!
Cindy