Hello friends! I didn't forget about you yesterday, I promise! I left you all hanging though on Tuesday with my Two Truths and a Lie game. Oops... I just was unexpectedly busy yesterday and didn't have a moment to blog! I do hope you'll forgive me.
But since I missed giving you the answer to which one was my lie yesterday, I have to share today! In case you missed my post, before you find out the answer go here and take a guess at which fact you think isn't the truth!
Filler photo so you can't cheat... ;)
Alright, now that we're all caught up.... #2 was the lie!
2. When I was younger I hated the way my name was spelled. "Cindy" was too normal and I wanted to have it spelled "Cyndi". I tried for months to get my parents to spell it the way I wanted it but they just kept telling me "We spelled "Cindy" the way we did on purpose, we're not going to change it now." Eventually I conceded and started liking "Cindy".
I said that there was some truth to it, and there is! I did at one point in time wish my name could be spelled "Cyndi". However, I didn't try to convince my parents to change it. And it didn't even really last that long (the me wanting it spelled different thing), maybe like a month or so. I will say though that when my sister turned 18 she insisted everyone start spelling her name Kaity instead of Katie. I refused for about a year because I thought she was just being silly and rebellious. But it stuck and I think finally everyone spells it Kaity now. It did take a while for people to actually do it though!
So, did you guess correctly? Of the responses I got most of you did guess number 2 was the lie. Maybe I'm not that good at this game...
Now, because I love them, here's a few more pictures of the tulips Collin bought me for Valentine's Day!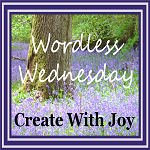 Hope you all have a lovely Thursday!
Cindy