Sorry I was a delinquent little blogger yesterday. =( I was really busy and it just totally slipped my mind. I wish Mondays didn't have to be so hard, that Monday was like Wednesday every week. But that just doesn't make sense. Although I do wish every weekend was at least 3 days. That would make things maybe just a bit more glorious.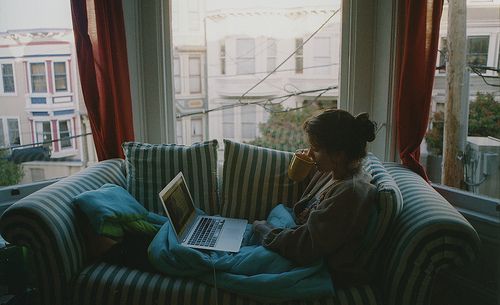 Found here
Basically what I looked like on my couch.
Anyway... this past weekend was COLD. It was so cold that even with the heat running in my house I was still bundled up in a sweatshirt over top my 3 shirts (cami, 3/4 sleeve shirt, and cardigan) and wrapped in a blanket with slippers over my socks. And I was STILL cold. Our house can be really drafty, though Collin has made good use of things to make it a little less drafty. I hated going outside because it was so cold! And Sunday was awful because it was windy! And after church on Sunday we got a piano! A friend of ours works with a lady who was moving and wanted to get rid of her piano. She asked our friend if he knew anyone who wanted it and he thought of us. So Sunday we went to her apartment and put it into a trailer and hauled it over to Collin's parent's house where it will be kept until we have space for it. It was VERY cold standing out there supervising them putting it into the trailer. I say supervising like I was actually helping. ; ) Actually, I did carry the bench and the music stand portion. But I am so excited about my piano! I was so disappointed when I moved out of my parent's house because that meant no more piano to play all the time whenever I wanted. And even though our piano isn't at our house at the moment, it's MY piano! I own a piano! And it didn't cost a thing which is even better! I am forever grateful to the lady who gave it to us. I hope she knows how happy she made me.
Another thing that made me really happy was that Collin gave my car a MUCH needed oil change Sunday afternoon despite the bitterness outside. He's my hero. =) My car has been needing an oil change for so long I'm embarrassed to talk about it. I'm really good about getting it done because I know how bad it is for your car, I wasn't burning any oil away and it hadn't been more than 3,000 miles from when I was supposed to get it done, but still, I hate waiting so long after my 5,000 mile indicator comes on. But in all honesty, it had been either way too cold or bad weather outside whenever we had the opportunity to change it. But now my little car is running great and it's got brand new oil in it's engine!
Also on Sunday afternoon we had one last Christmas party of sorts with some family friends of ours. We usually get together with this family right after Christmas but due to family being in town and then people dealing with sicknesses we just hadn't been able to get together until Sunday. We enjoyed a leisurely afternoon chatting and relaxing and then we had a delicious chili dinner my mom had made. After dinner we opened presents and everyone got great goodies! All of the ladies ended up with new Christmas hand towels that came from the same store! And Collin and I got an Applebees gift card and a new ornament which we'll definitely be putting on our tree next year! After the gifts we played a game of Apples to Apples Junior. Our friends have a 6 year old and he was actually really good! He could read every word on each card he had to read. I was thoroughly impressed! And I was even more impressed that he knew what all the words meant. It was a fun game actually and it's pretty much just as fun as the regular version. There's even some things in the regular version I don't know what they are! I like playing Apples to Apples because it creates so much laughter. And I love laughter.
So that was my Sunday. What fun things did you get to do this weekend? Was it as cold where you are as it was here? Today's a little warmer (high of 47) but it's supposedly getting chillier the rest of the week. =( Are you praying for spring as much as I am??
Cindy