My mom's 50th birthday is on Monday and she wanted to have a party but she didn't want to plan it. My sister and I, with the help of our aunt, have been planning a big birthday celebration for this Friday evening. I'll definitely post more details after the event, but for now I just wanted to post about one of the decorations we're going to have.
Ever since I was wedding planning and then even more so when planning my sister's bridal shower, I've been in love with party poms. Now I know they're more so "out" and bunting is "in" at this moment, but I still wanted to do it and Kaity liked the idea, too. So we found this great tutorial over at
Martha Stewart
and we got to work. We bought a variety of different tissue paper in the colors for the party and I found some flower wire covered in white fabric. We set out a spot on my kitchen table and began making the poms. It's really quite simple to make. And I regret that I forgot to take pictures of the making process. However, if you click on the link above it will take you to a step by step tutorial guide for how we made them. Regardless of whether you want the poms to be big or small use 8 sheets of tissue paper like it calls for. If you want them to be smaller just use smaller pieces of tissue paper, we ended up buying a pack of 50 sheets of tissue. It had 5 colors so there were 10 of each color. We made one of each color as large poms and then we cut the remaining two sheets of tissue paper first in half along the long edge and then stacked it and then cut it in half again now along the new long edge to make it so we had 8 pieces stacked on top of each other. We tried to make a pom with only three pieces of tissue stacked and it looked so pathetic. The more layers you have the pouffier and better it will look!
Here's two pictures of the poms awaiting Friday afternoon in my spare room upstairs. I'm definitely going to take pictures at the party and I'll show you the finished result of them hanging up in the clubhouse.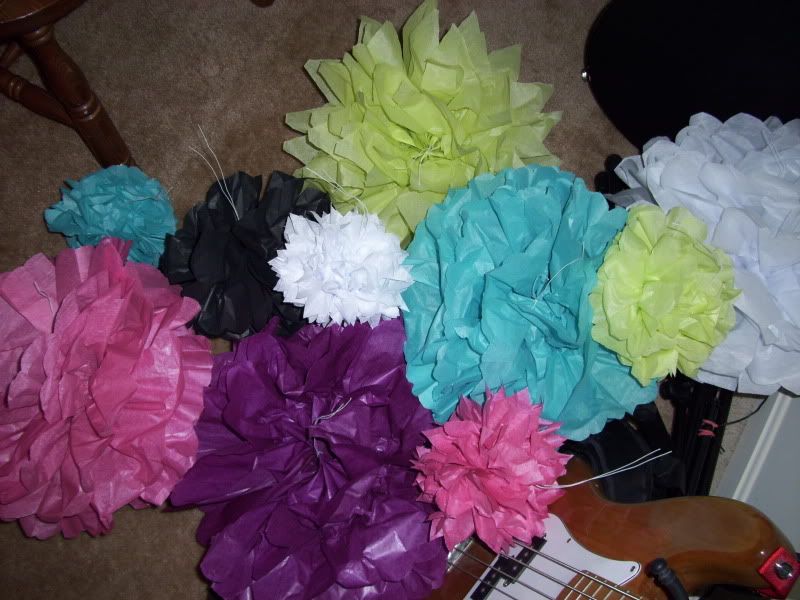 Have you ever made poms like this before? If so, how did yours turn out? What other fun party decorations are out there that I should be aware of? I'm finding that I really like planning parties and the like!
Cindy