Helloooo Friday! Hurray! It's
Fill in the Blank Friday
day! And it's my day off Friday! So this is one good day. I've got lots of stuff going on (mostly errands) and I'm excited for my day off! Anyway, if you'd like to play along or see other's blanks visit
Fill in the Blank Friday
with Lauren at
the little things we do...
! Onto the blanks!
1.
My idea of pure perfection would be
not having any student loans and being able to live off teaching piano lessons and being a worship leader
.
2.
Laughter and love
makes the world go round
.
3.
If it weren't for
student loan payments, bills, and work
I'd
travel the world with Collin
!
4.
Bloggers are
some of the sweetest and most fun people! I love how honest and transparent some of them are. I have made great friends through blogging
!
5.
If I had
a million dollars
I'd buy you (as in Collin)
(well first I'd pay off my loans) a nice house with a beautiful yard and a pretty chocolate lab. Then I'd buy you the Jeep you've always wanted and your completely decked out Mac Pro and any other music software you would want
.
6.
I'm glad it's Friday because
I want to relax this weekend and spend some quality time with my husband
!
7.
Something I'm excited about is
our camping trip with my parents coming up Sept. 30-Oct. 2. We'll be spending the weekend in Gettysburg and having fun at the Apple Harvest Festival! I'm super excited about it
.
This week's Live Every Moment photo challenge is organic! I thought this was really cool since we're growing our own grapevine and I got to take some awesome pictures of it just after a storm this week.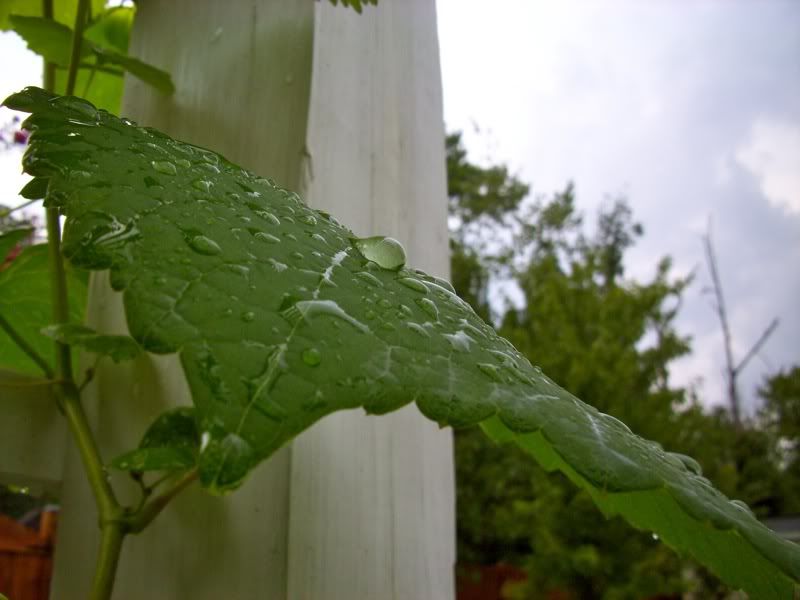 I hope you all have a wonderful weekend! Enjoy the time you get to spend with your loved ones!!
Cindy