1 Give thanks to the Lord and proclaim his greatness.
Let the whole world know what he has done.
2 Sing to him; yes, sing his praises.
Tell everyone about his wonderful deeds.
3 Exult in his holy name;
rejoice, you who worship the Lord.
Psalm 105 (NLT)

Today I am grateful for frisbee golf. Collin got into it back in April and shortly after, I joined in the sport. It is so much fun! We are very fortunate that we have a park with a frisbee golf course nearby so we can play often. We definitely don't play as much as we'd like but we do enjoy going to the course together. I really enjoy being out at the park with Collin, I'm so grateful for the time we get to spend together playing frisbee golf. I think it's very relaxing and fun to share this hobby with my hubby. I'm not very good yet, but I am improving each time we go out! Something really fun is that whenever we go out of the county we find parks near where we're going and we play if we have time. So far we've been to 2 others than the one here at home, but we look forward to exploring and playing many more!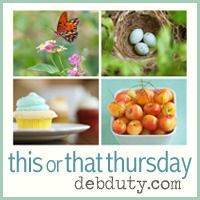 If you're interested in finding out about frisbee golf courses in your local area this link is the one Collin and I use to find courses in other areas. We find it really helpful and they've got pictures and reviews on there, too!
Cindy