1 Give thanks to the Lord and proclaim his greatness.
Let the whole world know what he has done.
2 Sing to him; yes, sing his praises.
Tell everyone about his wonderful deeds.
3 Exult in his holy name;
rejoice, you who worship the Lord.
Psalm 105 (NLT)

Today I am grateful for my piano. I am so, so thankful that I have a piano to play whenever I want. I began taking lessons when I was 10 years old. Well actually, I started playing when I was like 5 or so with my mom teaching me but it didn't last for long and then I began taking lessons with Mr. Hoop at 10. I took lessons with Mr. Hoop until I went away to college and I sincerely loved it! I eventually finished all the lesson books and just began playing whatever songs Mr. Hoop decided to assign me. I didn't take classical lessons in college (no time/money) but I did take Praise and Worship Keyboard lessons since my major was Church Music, after all. I am really glad I took those lessons though because it's really helped me out with my playing on the praise band. I learned lots of really cool techniques.
Playing piano is something that really soothes me. It has always been a way for me to release my stress. And if I'm having a bad day I can sit at the piano and play and instantly feel better. It's amazing how something so simple as playing a song or two can change my whole attitude. But I suppose music has that effect on people all the time. Some of my favorite pieces to play are Beethoven's Moonlight Sonata and Debussy's Claire de Lune. I also really enjoy playing the accompaniment parts to choir pieces and some random piano solos I have of different hymns. I'm actually playing an arrangement of the hymn I Am Thine tomorrow morning at our 8 am worship service!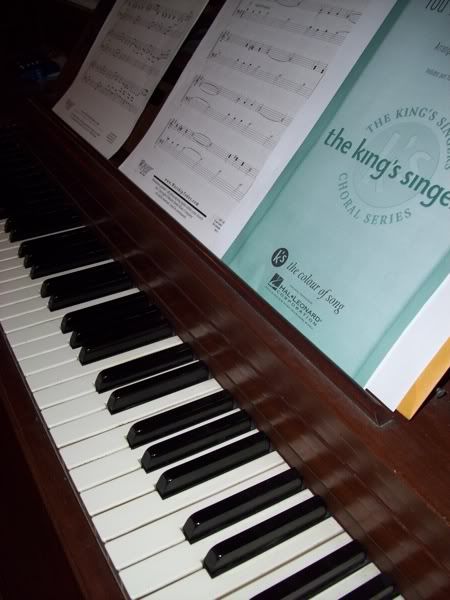 Anyway, I am so thankful for my piano and for the lessons my parents paid for so that I can have this awesome, awesome hobby. It is one of my favorite things and I will cherish my piano forever.
Cindy