This weekend was a bit of a fun one. I wasn't home very much, which was a little sad, but it was still a good weekend. I got to go to Waldorf twice this weekend, to very different stores both trips though. On Friday Collin and I headed up after work and he got fitted for his tux for the wedding he's in on New Year's. Afterwards we wandered into hhgregg since neither of us had been in one and were curious about the inside. I immediately began longing for a place of my own where I can buy the appliances I want. They had the most gorgeous front loading washer and dryer set, in red none-the-less. We looked at tvs and stereo systems for a bit and then headed over to the kitchen section and I yet again longed to buy new appliances. I found my dream oven. It's a dual oven but one of them is much smaller than a regular oven and is much more energy efficient. You can basically cook just like you would in a larger one but it heats up much faster and since it's so small it uses less heat! Oh man. I was in love. After we left hhgregg we headed to Bed, Bath, and Beyond where I continued to yearn for a bigger kitchen to put all the awesome gadgets, appliances, and place settings I saw in. One day I'll be able to have my dream kitchen and I can not wait until that day.

On Saturday I headed back up the road to Waldorf with my mom and we went to the Christmas Tree Store and that place was awesome! I had so much fun just looking at everything they had in there. Before we went Mom had told me it was much more than just Christmas stuff and boy was she right! This place was awesome! I did buy only Christmas things but their selection of non-Christmas items is incredible! After there we headed over to the mall where we each completed some Christmas shopping and got free Toll House cookies! There was some lady in the middle of the mall who worked for Toll House that had a tiny oven and was baking the cookies right there! I actually had two, one on my way up the escalator and another on our way out of Kohl's. =) Chocolate chip cookies are amazing and when they're free they're even better!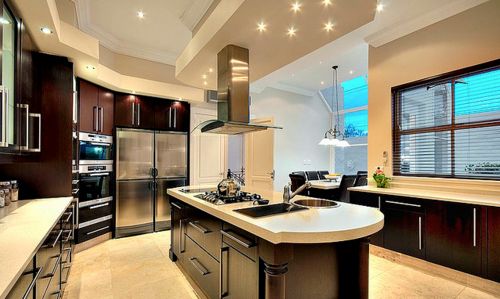 similar to my dream kitchen found here
Later that evening Collin and I had our friend Jim over and we had a rousing night of gaming. We started the evening off with Mouse Trap where much to our dismay we realized we were missing one of the marbles (we ended up rigging it with a battery dropping onto the see saw part) and not all the pieces were made very well so it was kinda a rig to get it to work properly. I guess that's what happens when you buy it at a yard sale. After Mouse Trap, which Jim won, we started a game of Risk. I had only played Risk once before this and I was 12. I did not remember anything about the game so Collin and Jim explained to me. I actually ending up really enjoying it (until I started losing and then I got grumpy). Right off the bat I took over the continent of Australia and had most of Asia actually, too. And at one point I did own all of Asia, but that was a very short lived victory as Collin came and invaded me from Alaska. I was not amused. But yeah, it was a really fun game and even though we didn't finish it (it got too late) Collin was deemed the winner and the underdog. At one point Collin had 9 countries and only one army on each, but then he came back and took over South and North America, some of Asia and some of Africa. And on his last turn before we ended he took one territory from Australia from me. I ended up getting second place over all which was cool. So yeah, it was fun game!
Yesterday after church I had a bridal shower to go to and it was fun! We played some fun games and the bride got lots of great gifts! I enjoyed being there and supporting Bev in her upcoming marriage. I'm so excited for her and Chris! Afterwards Collin and I went over to his parent's house and spent the evening with them. We had a nice time and I had a nice chat with his mom for a while while the guys were out getting us dinner. We watched a bit of Jingle All the Way and that movie is so funny.
So yes, I'd say it was quite a good weekend! I didn't get the baking done like I wanted to but I'll do it this week sometime, I'm sure! What did you do this weekend? Anything fun and exciting? Share it with me in the comments!
Cindy