Well, today is Friday so that means I'm participating in
Fill in the Blank Friday
with Lauren at
the little things we do...
! I really, really enjoy doing this every week now! It's like the highlight of my blog week!
1.
I love
my iPod
because
it plays my music all day but I can also play games and do (almost) whatever else I want on it. It keeps me entertained and from being bored. It lives up to it's name as my Best Friend
. ; )
2.
A time that mama knew best was
when she told me to fill my life with only the things that truly make me happy. Life is MUCH too short to be filled with things you don't enjoy or people you don't like
.
3.
My first kiss went a little like this...
It was a very sloppy but quick wet kiss at the top of the stairs at his parent's house before heading down to go to dinner. We were in 8th grade. It was kinda gross and I avoided kissing him again actually. I think that kiss made me feel awkward and probably ultimately caused me to break up with him, like it made me realize I wasn't really attracted to him
.
4.
My celebrity crush is
Cuba Gooding Jr. I've always had a little crush on him. All the movies I've seen with him in them I love and I always love his characters. Plus, he's pretty dreamy
. ; )
5.
My splurge of choice is
clothes. Definitely clothes. I love buying new clothes and it's really hard for me to not buy every piece I see and like
.
6.
My biggest accomplishment is
my marriage. Marriage takes a lot of work and sure it's only been a year but we made it through our first year! And we'll make it through many more! I'm very proud to be married and to have such a great husband!
7.
My dance jam of choice is
"Dynamite" by Taio Cruz at the moment. I have so many jam songs though that it's hard to narrow it down. I only really chose that one because every time it comes on my iPod (or I hear it in a store) I can't stay still. Really though anything with a good, fun beat is my dance jam
!
Also this Friday I'm entering the Live Every Moment photography challenge. This week's theme is food. As soon as I heard the theme I knew which picture I wanted to submit. When we were at Disney, Epcot was having their flower and garden festival so everything was made out of flowers and what not. They had this one section dedicated to gardening and horticulture. It was so awesome and Collin and I spent a good bit of time looking at the plants and reading the literature they had on being green. I snapped this photo of a pineapple plant and just love it!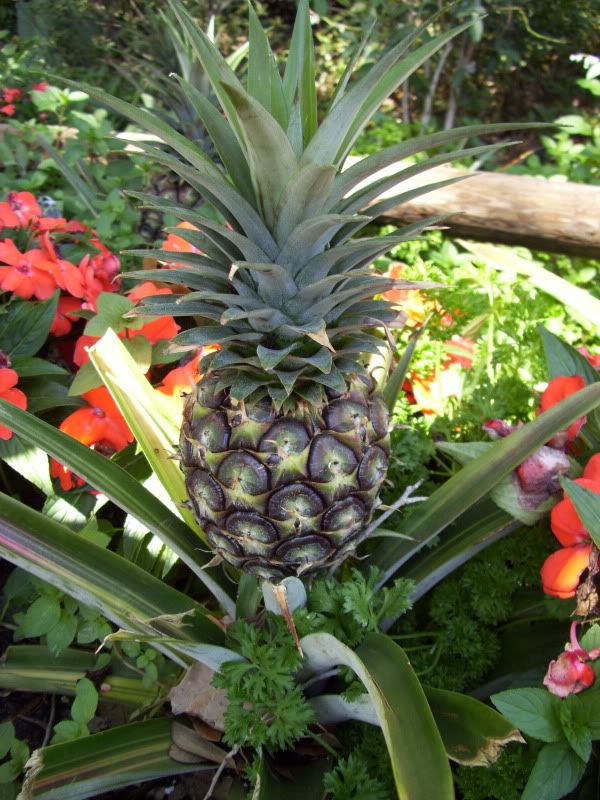 I hope you have a wonderful weekend! Tonight is Collin's mom's birthday so we'll be celebrating that. And then tomorrow we've got a wedding to go to tomorrow so I know ours will be fun!
Cindy